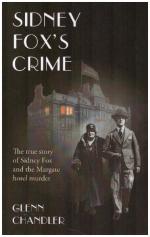 Author: Chandler (Glenn)
Year: 2023
Publisher: Grosvenor house Publishing Ltd.
Edition Details: 1st Edn.
Book Condition: New
ISBN: 9781803815404
Price: £15.00
IN STOCK NOW
Paperback. SIGNED. The true story of a young gay man who was hanged for the murder of his mother. Sidney Harry Fox was the illegitimate son of a railway signalman. He and his mother Rosaline were a devoted couple. Sidney was a forger and a fraudster and a pathological liar who in the course of his life went to prison six times, while she was a Red Cross nurse who was kept by men. Sidney was also a handsome and seductive rent boy with well-placed clients, including three members of the House of Lords, senior army officers, a Justice of the Peace, and a suspected spy who enjoyed being flogged by guardsman of the Household Cavalry. Sidney had long supported his mother on his earnings from prostitution. At the age of twenty-one, Sidney became embroiled with a notorious jewel thief and possible male lover, and later with a married Australian woman who conspired with him to defraud her father, a wealthy merchant. He was later suspected of trying to murder her, by gassing her while she slept in their flat in Southsea after she left him everything in her will. But by the end of the 1920s, he and his ailing mother had fallen on hard times. With nothing but their combined wits and the clothes they stood up in, they set off on a remarkable odyssey around England, staying in grand hotels and leaving without paying their bills. But it was the mysterious and unsolved death of Rosaline Fox which catapulted them from obscurity into the headlines. In October 1929, they checked in to Room 66 of the Metropole Hotel, Margate, where they stayed seven days. On the night of the 23rd, the eve of the Wall Street Crash, a fire broke out in his mother's bedroom and she was found dead. A death certificate was issued giving the cause as shock and suffocation, and she was buried in the tiny Norfolk hamlet where she was born. There she lay for ten days until it was discovered that Sidney had insured her life from accident, and stood to gain £3000 by her death. Her body was exhumed, and an autopsy performed. What the famous pathologist Sir Bernard Spilsbury claimed to find led to one of the most unusual and gripping trials in British criminal history. Set in the Jazz Age and the Roaring Twenties, and reading in part like the plot of a Hitchcock thriller, this is the first full and authoritative account of this amazing case, packed with a wealth of newly sourced material. It explores the strange relationship between Rosaline Fox and her son, and also asks the questions - was he guilty, and did he deserve to hang? And what exactly was Sidney Fox's crime? Illus., ~Sources and Index. 264pp. p/back. FLAT SIGNED BY GLENN CHANDLER. New.
Additional Images
Other