about loretta lay books
Loretta Lay has been involved in the true crime book trade for over 20 years, beginning with Camille Wolff at Grey House Books, not just compiling and producing comprehensive catalogues, but also dealing with a wide range of customers worldwide.
Over the years Loretta's extensive knowledge of all aspects of the true crime genre has resulted in her becoming the first port of call made by numerous writers, researchers, journalists, and producers from both radio and television, which sometimes resulted in also taking part in the programmes. She has often provided true crime books for use in TV programmes.
Loretta has built-up an unrivalled network of contacts from both sides of the law, (some of whom have subsequently become friends), often enabling her to 'assist in inquiries' obtaining information for their own autobiographies - so if she doesn't know - she usually knows someone who does.
She was responsible for producing 'Who Was Jack the Ripper? A Collection of Present-day Theories and Observations', a unique best-seller published in 1995 by Grey House Books. She made the contacts and liaised with the contributors, all 54 of them, proofed and prepared the book for publication.
Loretta is regarded as a leading authority on true-crime and Jack the Ripper, and is a member of Whitechapel Society 1888.
24 GRAMPIAN GARDENS
LONDON NW2 1JG
TEL +44 (0)7511 576641
MAIL ORDER ONLY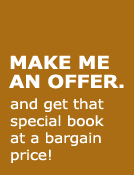 If you're after a particular title, enter your details below
Enter the details below and we'll be in touch shortly