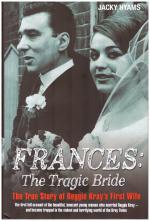 Author: Hyams (Jacky)
Year: 2014
Publisher: John Blake
Edition Details: 1st Edn.
Book Condition: AsNew/AsNew
ISBN: 9781782197676
Price: £35.00
IN STOCK NOW
Hardback. The first full account of the beautiful, innocent young woman who married Reggie Kray - and became trapped in the violent and terrifying world of the Kray Twins. She was young, very beautiful and had everything to live for - but the life of Frances Shea, briefly married to Reggie Kray, remains one of the most tragic stories of the Swinging Sixties. Courted by Reggie as a schoolgirl, her eight-year relationship with him drew Frances into an outwardly glamorous world of nightclubs, fast cars, beautiful clothes and showbiz parties. Yet as time went on, she found herself struggling to cope with the real world of the Krays, the hidden world that lay beneath the glossy facade and the cosy cups of tea in the downstairs parlour in 'Fort Vallance', their East End home, a horrific world of violence, drink, drugs - and sheer terror. By the time Frances married Reggie in their very public, celebrity-strewn 'Wedding of the Year' in 1965, her life - and that of her own family - had become inextricably linked with Ronnie and Reggie's rapid downward spiral from gangland extortion and brutality into senseless murder and mayhem. Possessive in the extreme, Reggie remained obsessed by his wife from the day he met her - but he was never prepared to let her go. And despite her desperate attempts to break free, just two years after their wedding, Frances was found dead from a drug overdose, in her brother's flat, at the age of just 23. Only now, 50 years later, in a revealing and sometimes shocking examination of the facts behind the myths, the truth about the life of Frances Shea and her marriage to one of the Kray twins can finally be revealed, bringing with it the troubled, secret story behind Reggie's obsession with her. Unseen until now, documents and diaries reveal the reality of their life together - and how the effect of their tragic, doomed relationship continued to haunt the lives of those closest to Frances right to the end. Illus. in colour and b/w. 251pp. 8vo. h/back. As New in dw. Scarce.