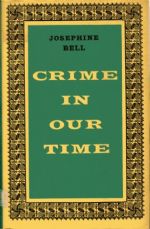 Author: Bell (Josephine)
Year: 1962
Publisher: Nicholas Vane
Edition Details: 1st Edn.
Book Condition: Vg+/Vg+
Price: £12.00
IN STOCK NOW
Harback. The author, in addition to being one of the most distinguished detective-story writers of the day, was a doctor of medicine with a deep and long-lasting interest in the social causes and results of crime. This book is the outcome of that interest. Basically she believed that the great increase in crime taking place at the time, was largely due to a lack of the essential early training needed to reconcile the self-regarding, acquisitive and savage side of human nature with the equally fundamental longing for the protection and security of the herd. She begins with an account of a real day of crime in London - 24hours selected at random and not because it was a particularly busy one from the point of view of the police. In the early hours of a Sunday in February 1960, a man was shot in a small club in the East End, staggered into the street and fell dying by his car. In the West End thieves were breaking into a fur shop. Later in the day, north of the city, a safe was broken open in a café and £3,000 in notes and jewellery taken. In Penge, in the south, a woman was attacked by a man on a railway station, while at Hayes thieves were taking cash and equipment to the value of £1,470 from a dairy depot. Safe-cracking, physical assault, murder, even a bomb scare - all in one day. Was it as bad in London 60 or 40 or 20 years previously? Was there just as much crime and, if so, did it follow the same pattern? Were sexual crimes on the increase? Was the coshing of elderly post-mistresses, the use of knives and guns and improvised bludgeons by young ruffians, the raping and killing of children peculiar to the time, or was it simply that every crime was given more publicity then than it would have been in the past? Did the violence in some TV plays, films and comics warp the young mind? These and many other questions are answered by the author, who also examines the organisation of the police force, prisons, and detention centres. With Bibliog. and Index. 240pp. 8vo. h/back. Lightly foxed and browned edges o/w Vg+ in Vg+ dw.