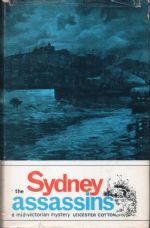 Author: Cotton (Leicester)
Year: 1964
Publisher: Lansdowne
Edition Details: 1st Australian Edn.
Book Condition: Vg+/Vg
Price: £10.00
IN STOCK NOW
Hardback. A fascinating real-life 'whodunit' about two murders which caused near-panic in Sydney in 1872. On March 12, 1872 the body of a man was found floating in the Parramatta River, one of the main arms of Sydney Harbour. The body, fully clothed, had been expertly trussed with rope and weighted with a huge stone, which nevertheless had failed to prevent it rising to the surface. When the body was dragged ashore at Ryde and examined by police, it was found that the man had been terribly battered about the head. A week later, the body of a second man, similarly trussed and weighted, was found in the river. He, also, had apparently been battered to death. Before long, circumstances came to light which suggested that these were no ordinary murders, and in consequence the citizens were thrown into a state approaching panic. The victims had been lured to their deaths with extraordinary cunning, it seemed, and the feeling was that no one was safe, that here was mass murder in the making. The author first came across an account of the Parramatta Murders by accident. He was fascinated by the unusual excitement these now-forgotten killings had aroused, and decided to delve further. As he pored over the often lurid accounts of the murders and their many sequels, he noted many strange discrepancies and omissions, and gradually became convinced that there was more behind the killings than had been revealed at the time, that, in fact, the true story had never been told. Further research, which entailed following up clues in several Australian States, in England and in New Zealand, brought to light many odd facts which showed that this was indeed so. There was a whole series of mysteries and ambiguities about all the principal actors in the drama, including the two victims and the two men charged with their murder. Indeed, the supposed victims were almost certainly not the men whose bodies were found in the Parramatta River, and there is evidence that both were alive after their "deaths." Despite the fact that the trial was nearly a century old, the author was able to make a reconstruction of the case which overcame the many baffling problems raised by the contemporary accounts. He shows - something that was not suspected at the time - that it was linked with the equally baffling Tichborne case, and that, in fact, the murders may well have been inspired by at least one of the Sydney supporters of the Tichborne Claimant. The author provides an authentic picture of life in Sydney in the 1870s. Illus. 171pp. 8vo. h/back. From the library of true crime writer, Wilfred Gregg, with his personal b/plate. Vg+ in sl. frayed and creased Vg. dw.