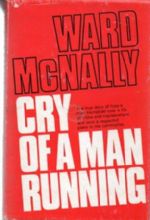 Author: McNally (Ward)
Year: 1968
Publisher: Angus and Robertson
Edition Details: 1st Australian Edn.
Book Condition: F/Vg
Price: £5.00
IN STOCK NOW
Hardback. Clifford Keane began his criminal career at the age of 12. The child of a broken home, he ran away from it to live by his wits on the streets and wharves and in the racing stables of Auckland, New Zealand. Before long he was in a home for delinquent boys, from which he progressed to training farm, Borstal, and finally, after years of criminal activity, to Mount Eden prison, where the toughest, most dangerous of New Zealand's convicts are kept. It was in Mount Eden, during a 5yr sentence, that he decided to make the effort to abandon his criminal life and start afresh. With little encouragement, but stimulated by a correspondence course in journalism attempted in his cell, he began the hard, long haul that ultimately led to a new career, as a newspaperman and author, in a new country, Australia, with a new name - Ward McNally. This is the story of those years of crime and punishment and reform. It is a frank view of prison life, with glimpses of such notable prisoners as Eric Mareo, the once-celebrated musician who was twice sentenced to hang for murder, and Sid Ross, who played a mammoth wartime confidence trick on New Zealand's Prime Minister. It is also a fast-moving adventure story and a re-creation of time and place. Moreover, it is a triumph of the human spirit, illustrating, in the author's own words, that "provided a man is genuine and has guts, it is never too late to fight his way to something better". 209pp. 8vo. h/back. From the library of true crime writer, Wilfred Gregg, with his personal b/plate. F. in sl. frayed Vg. pcdw.