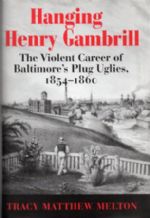 Author: Melton (Tracy Matthew)
Year: 2005
Publisher: Maryland Historical Society
Edition Details: 1st US Edn.
Book Condition: Vg/Vg+
ISBN: 9780938420934
Price: £15.00
IN STOCK NOW
Hardback. On a warm night in September 1858, a number of well-dressed young men set out from a restaurant in Baltimore's west end to serenade newlywed friends. These were not just any young men but leaders of Baltimore's most feared "political club," the Plug Uglies, whose reputation and exploits were fast spreading across the country. Before the night was over they had crashed a party, a police officer lay dead in the street, and one of their number - handsome soft-spoken Henry Clay Gambrill - was in jail. With a historian's meticulous research, the author has brought to life the gangs behind the anti-Catholic, anti-immigrant violence of the 1850s: The Rip Raps, Black Snakes, and Blood Tubs; the Regulators, Rough Skins, Double Pumps, and Calithumpians. Here, too, is the redoubtable New Market Fire Company and their deadly rivals, the Mount Vernon Hook-and-Ladder, whose members proudly rallied under the Plug Ugly banner. "Country" Thompson, Petty Naff, and Arch McAleese lurk and swagger through these pages with Crab Ashby, "Ready" Craig, Kitty Chambers, and Boney Lee, assassinating rivals, battling at the polls, even provoking the intervention of US Marines to protect the ballot in the nation's capital. The large and sophisticated gangs were fully exploited by Baltimore mayors, Maryland governors, and congressman. Operating behind an apparently impregnable wall of power, influence, and judicial corruption, they thrived until that clear September night, when a crime and subsequent arrest unexpectedly set in motion a chain of events that would lead ultimately to betrayal and their downfall. Illus. and Map eps, Sources, A Note on Research and Writing + Index. 493pp. lge. 8vo. h/back. From the library of true crime writer, Wilfred Gregg, with his personal b/plate. With 'wavy' pp. plus an 'indentation' from head to tail of sp. o/w Vg. in Vg+ dw. A fairly heavy book which will require additional postage.