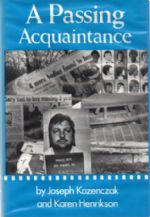 Author: Kozenczak (Joseph) & Henrikson (Karen)
Year: 1992
Publisher: Carlton Press Inc. (New York)
Edition Details: 1st US edn.
Book Condition: F/Vg
ISBN: 0806241322
Price: £40.00
IN STOCK NOW
Hardback. The story of John Wayne Gacy, Jr., at time of publication, awaiting the death penalty in the State of Illinois. The story is told from the perspective of the Chief of Detectives of the Des Plaines, Illinois, Police, Joseph Kozenczak, and it is the shocking tale of one of the most brutal serial murderers in the annals of crime. Gacy, to the casual observer, was a pillar of the community. He was active in the Jaycees for whom he dressed as a clown and entertained children. He was a precinct captain for the Democratic Party, and a member of the local lighting commission. But Gacy had an odious hobby: he forced boys to perform sexual deviate acts and then murdered them, sometimes sleeping with the dead body for a day or two. Gacy was convicted of killing 33 young men, 27 of whom he buried in his basement crawlspace, the others he threw into a river. Kozenczak was led to Gacy while investigating the disappearance of Rob Piest. Piest was described as an all-American boy. He came from a good and loving family, and he was well liked by his peers. On December 11, 1978, Elizabeth Piest, Rob's mother, went to pick him up at his part-time job at a local pharmacy around 9pm. He asked her to wait because he wanted to talk to a contractor about summer employment. After waiting 20 minutes, she searched for him only to find that he had disappeared. This behaviour was highly unusual for Rob Piest and his mother began to worry. She filed a missing-persons report with the police department and Lt. Kozenczak felt that the case was significant because Rob Piest did not fit the profile of a runaway teen. His investigation of the disappearance led him to Gacy, who was one of the last people seen talking to Rob Piest. The investigation included numerous interrogations, consultations with two psychics, the necessity to obtain two search warrants, and a 24-hour-a-day surveillance of Gacy. What started out as a routine missing person case ended up a nightmare of mayhem and murder. The conviction of Gacy on 33 counts of murder was a record in the archives of criminal justice. Gacy was one of the most notorious serial killers in American history, killing more victims than Juan Corona, The Zodiac Killer, or Ted Bundy. The authors bring to life the chase after John Wayne Gacy, and provide a glimpse into the mind of a fiendishly perverted killer. Illus. 192pp. 8vo. h/back. From the library of true crime writer, Wilfred Gregg, with his personal b/plate. With loosely inserted author's Compliment slip. F. in what would have been a F. pcdw, except for a 'rippling' effect to the paper, so can only therefore be described as Vg.