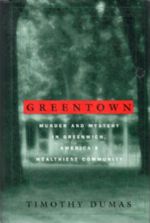 Author: Dumas (Timothy)
Year: 1998
Publisher: Arcade Publ (New York)
Edition Details: 1st US edn.
Book Condition: F/Vg+
ISBN: 9781559704410
Price: £8.00
IN STOCK NOW
Hardback. Martha Moxley haunts Greenwich, Connecticut. She is the town's darkest secret, its deepest shame. The battered body of the pretty and popular 15yr old girl was discovered on Halloween in 1975 in the exclusive Greenwich neighbourhood of Belle Haven, where she lived. She had been bludgeoned to death on the front lawn of her home the night before - known in the town as "Mischief Bight." As the author recounts in this chilling, suspenseful, and engrossing account, the savageness of Martha Moxley's murder threw Greenwich - or "Greentown," as it is called both affectionately and derisively - into shock. Over the years, money had transformed the town into a haven for presidents, movie stars, and titans of industry, a tree-lined paradise of prosperity and privacy. Martha's fate shattered that image. In the days immediately following the murder, rumours flew. Attention focused on members of the Skakel family, who lived across the street from the Moxleys. Ethel Skakel and Robert Kennedy had married in Greenwich, and the two families were close. Thomas Skakel, Ethel's nephew, was the last known person to see Martha alive. The murder weapon, a ladies' golf club, came from the Skakel household. When the Greenwich police tried to pursue its investigation, however, the community closed in upon itself. Walls went up, lawyers were summoned, information was suppressed. Gradually, inexorably, evidence grew stale, witnesses turned unreliable, sources dried up, and suspects - Thomas Skakel was not the only one - went on with their lives. No one was ever charged. Greenwich hoped it would all simply go away. But Martha Moxley wouldn't go away. Kennedy scandals frequently revived gossip about what really happened that Mischief Night. A Greenwich native, the author gives a spellbinding account of the Moxley case and its aftermath, showing how and why it became woven into the very fabric of the town itself. Illus. 283pp. 8vo. h/back. From the library of true crime writer, Wilfred Gregg, with his personal b/plate. F. in Vg+ dw. A fairly heavy book which will require additional postage if shipped overseas.