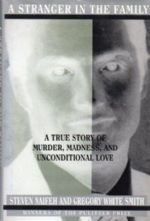 Author: Naifeh Steven) & Smith (Gregory White)
Year: 1995
Publisher: Dutton
Edition Details: 1st US edn.
Book Condition: NrF/Vg+
ISBN: 0525939733
Price: £8.00
IN STOCK NOW
Hardback. In this detailed story of a serial rapist-killer, the authors probe every tortured thought and every twisted urge in the mind of a "boy-next-door" murderer - as well as the dynamics of the "perfect," all-American family that shaped him. For too many unsuspecting and unlucky young women in Georgia and South Carolina in the late 1980s, a knock at the door could announce a dangerous visitor - Richard Daniel Starrett - answering "for sale" ads in the classifieds. This buyer, however, was hunting for victims, not bargains, and he paid in grim coin: rape, kidnapping, and in at least one case, murder. Sometimes, because of his charms, good looks, and articulate intelligence, he formed an emotional bond with them. But the result was always the same - and always horrible. After a nationwide manhunt, the police finally caught Danny Starrett, and he confessed to a 2yr rampage of rape and murder, plunging residents of this quiet corner of the Deep South into paroxysms of horror, fascination, and fear. Yet what made this case even more disturbing than the perversity of the crime was the unlikeliness of the criminal. Danny Starrett was no crazed loser. The straight-arrow son of a perfect all-American family - "a real Ozzie and Harriet story" - he had a beautiful wife, an adorable 2yr old daughter, and a prestigious job. He even had dreams of running for political office someday. Then, suddenly it all exploded. And everyone, especially his family, wanted to know why? The authors bring to vivid life the emotional nightmare that began for this model American family the day their son, their brother, their "golden boy" was arrested: the public ordeal, the private agony, the long and heartbreaking road from fierce denial to painful recognition of truth. The result is both a stunningly intimate portrait of a diseased mind and the moving story of a loving family's slow and painful disintegration. Illus. + Epilogue. 312pp. 8vo h/back. From the library of true crime writer, Wilfred Gregg, with his personal b/plate. Nr. F. in Vg+ dw. which has crease to fr. 'blurb'.