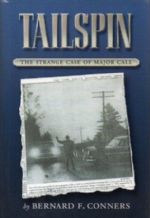 Author: Conners (Bernard F.)
Year: 2002
Publisher: British American Publishing (New York)
Signed by the author
Edition Details: 1st US edn.
Book Condition: F/NrF
ISBN: 9780945167501
Price: £25.00
IN STOCK NOW
Hardback. SIGNED. One of the most baffling murders of the 20th century took place on July 4, 1954 in a small suburb of a large Midwestern city. The murder has been the subject of intense media attention resulting in numerous books and film documentaries, but until now the true circumstances surrounding the crime have remained a mystery. The author, a former FBI agent combines the instincts of a "literary bloodhound" with the gifted talents of a storyteller to present the solution to this and other notorious crimes. The result is the suspenseful riveting story of Major James Arlon Call, an individual who appeared to have it all - a brilliant mind, devoted wife, dashing good looks, and an illustrious career as a decorated flyer. But Major Call also had a dark side - a passion for speed, danger, life on the edge, and survival at any cost. Haunted by the tragic death of his beautiful young wife, Call volunteered for wartime combat "suicide missions," then turned to gambling and crime. The latter took a deadly twist when Call, after committing an infamous murder during a burglary, fled to Lake Placid where he engaged in a shootout with four police officers, critically wounding three of them, one fatally. In the ensuing 106-day manhunt through the Adirondack wilderness, Call survived numerous confrontations with law enforcement officials while evading capture. His involvement in other crimes, most notably the notorious Midwestern murder, remained concealed from authorities until disclosed in this book. A cornerstone of the book is the Appendix describing the scope of the research such as forensic examinations, field investigations by private investigators as well asd countless hours of tape recorded interviews, all of which support the stunning revelations disclosed in the narrative. Readers will be fascinated by the book's shifting venues from aerial combat and the Adirondack wilderness, to gambling casinos, dockside sex, and Long Island mansions. Also includes the Marilyn Sheppard Case (bep and bpd show 'Schematic Timeline Major Call-Marilyn Sheppard Case'). Profusely Illus. (which includes Marilyn Sheppard post mortem photos), Epilogue, Addendum, Opinions From Prominent Law Enforcement Officials, Exhibits + Supplemental Source Notes and Schematic Timeline. 507pp. 8vo. h/back. From the library of true crime writer, Wilfred Gregg, with his personal b/plate. SIGNED BY THE AUTHOR. F. in Nr. F. dw. A fairly heavy book which may require additional postage.
Additional Images
Other