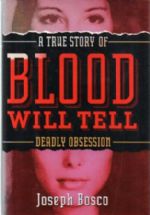 Author: Bosco (Joseph)
Year: 1993
Publisher: William Morrow (New York)
First Edition
Edition Details: 1st US edn.
Book Condition: F/NrF
ISBN: 9780688108892
Price: £30.00
IN STOCK NOW
Hardback. A shocking story of murder and obsession set in the heart of a New Orleans community. In the early morning of February 24, 1984, Janet Cannon Myers, a beautiful young mother, poet, and dancer, was found dead, lying amid an explosion of blood on her living-room floor. There were only two men in the whole world who could possibly have committed the deed: her husband, Kerry, and one of his closest friends, Bill Fontanille. The media blitz immediately after the murder featured stories of a badly injured grieving husband, an all-night fight-and-hostage situation as he vainly tried to protect his family, his desperate call to the police, and charges against Bill Fontanille (the scorned lover? for attacking Kerry Myers, almost killing his two-and-a-half year old son, and bludgeoning to death Kerry's wife. But upon close examination of Kerry's and Bill's statements to the police, the prosecutor's office found a troubling coincidence: Their accounts of what happened were virtual mirror images, the stories all but identical, except that each accused the other of attacking him with either a knife or a bat immediately upon entry into the Myers house that late Thursday afternoon. Each man vowed his innocence; in fact, each man said he hadn't even seen Janet during that long evening, much less her corpse. After four grand juries and three trials over 7yrs, both men were sent to prison, yet no one - including the judge and jury who convicted them and the district attorney's office that prosecuted them - has been able to determine who did what to whom and why. Perhaps until now, that is. Through hundreds of interviews, exhaustive research in thousands of pages of documents, and exclusive access to both Kerry Myers and Bill Fontanille, the author has done what the media, the courts, and all the family members and friends of the victim and the suspects have never been able to do - break open the sordid vault that holds so many of even the best family's secrets and lay bare all that is necessary for you to understand and then render your verdict upon what actually happened that horrific night. This is the story of a quiet New Orleans suburb whose deceptive calm is shattered by unimaginable savagery; a world where seemingly perfect marriages cover up histories of constant abuse; where close friendships are betrayed for sex; where loyalty and love are forgotten in the grip of ambition and greed. The author sketches indelible portraits of the victim and the accused, exposing passions and flaws that made this tragedy inevitable. For 10yrs this case gripped New Orleans, Hollywood, and the national media. Illus., Epilogue, Appendix and Index. 575pp. lge. 8vo. h/back. From the library of true crime writer, Wilfred Gregg, with his personal b/plate. F. in Nr. F. dw. A heavy book which will require additional postage, particularly if posted overseas.