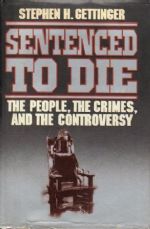 Author: Gettinger (Stephen H.)
Year: 1979
Publisher: Macmillan
First Edition
Edition Details: 1st US edn.
Book Condition: Vg/Vg
ISBN: 002543070X
Price: £9.00
IN STOCK NOW
Hardback. Drawing on the true stories of 8 Death Row inmates, this is a powerful, provocative, sometimes moving, sometimes horrifying exploration of the highly controversial issue of capital punishment. In his investigation of the 8 cases featured, the author reveals disturbing inconsistencies, clouded truths, moral ambiguities, undertones of racism, areas of more than a "reasonable doubt," and evidence of deep psychological problems. What for example, should be done in the case of a hard-working, churchgoing father of 11 who, driven by torment of incestuous desires, murdered his wife and 3 of his children? What about the 15yr. old - an A-student and altar boy - who, perhaps filled with the rage that adopted adolescent males often feel toward females, brutally raped and murdered a young girl and awaited execution in a Florida penitentiary? Or Ron O'Bryan, sentenced to die - on indirect, circumstantial evidence - for murdering his 8yr. old son with cyanide-filled Halloween candy in order to collect $20,000 in insurance on the boy's life? In each of the 8 cases, the author fills in the social and economic backgrounds of those involved, details the crime and subsequent court proceedings, interviews the grieving families of the condemned and the victims' angry relatives, and, finally, visits Death Row itself, to describe the feelings of the inmates. 284pp. With Bibliog. of Quoted Sources + Index. 8vo. h/back. From the library of true crime writer, Wilfred Gregg, with his personal b/plate. Vg. in vg. sl. frayed pcdw.