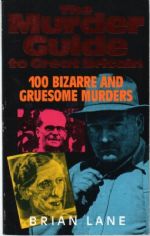 Author: Lane (Brian)
Year: 1993
Publisher: Robinson.
Edition Details: 1993
Book Condition: Vg.
ISBN: 9781854872364
Price: £5.00
IN STOCK NOW
Paperback. A guide to British murders which contains county-by-county descriptions of celebrated cases from the archives of 'The Murder Club'. Illus. with documentary photographs, maps and contemporary newspaper cuttings and including many eye-witness accounts. Features amongst others : Christie, Crippen, Wood, Nilsen, Cream, Ellis, True, Morrison, Williams, JtR, G.J. Smith, Fox, Rowland, Griffiths, Neilson, Peasenhall, Red Barn, Mary Ann Cotton, Evelyn Foster, Sutcliffe, Peter Manuel, Graham Young + many, many more. Illus. 613pp. p/back. With soiled mks inside back cover, lightly browned pp. Vg. with minimal creasing.