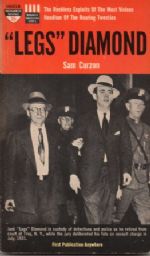 Author: Curzon (Sam)
Year: 1962
Publisher: Monarch.
Edition Details: 1st US p/b.
Book Condition: NrF.
Price: £5.00
IN STOCK NOW
Paperback. Juvenile delinquent, petty thief, muscle man, rum runner, strike breaker, army deserter, mail robber, hijacker, narcotics peddler, kidnapper, night club impressario, follies backer, playboy - and killer. These were the many occupations of "Legs" Diamond, one of the most notorious hoodlums of the Roaring Twenties. Rarely arrested, never convicted (except in his youth), he blazed a hot lead trail through the New York underworld, glorying in the headlines announcing his exploits, sneering openly at society and the law, while collecting women and vast sums of money with greedy hands. This was "Legs" Diamond, the "clay pigeon," who spent a decade dodging the bullets of rival gangsters and the police, until he wound up, his body riddled with bullets, on a cold slab in the morgue. 143pp. mass market p/back. With photograph covers. Nr. F. with no creasing to covers.