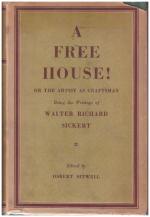 Author: Sitwell (Osbett) Ed. by:
Year: 1947
Publisher: Macmillan
Edition Details: 1st Edn.
Book Condition: Vg+/Vg.
Price: £40.00
IN STOCK NOW
Hardback. Taken from the 'blurb' : 'Therese Lessore (Mrs. Sickert), who had died in 1945, confided to Sir Osbert Sitwell the task of editing the writings of her late husband. Before her death, she had read the script of the book as it now stands, and her last act was, on the morning of the day she died, to pass the illustrations, over the selection of which she had taken great trouble... Sickert was one of the few painters of the time who had no theoretical axe to grind, and refused to join in the party politics of painting. He was, first, a great painter, secondly a great character and in these essays, and in the prose portrait of him by Sir Osbert which prefaces the book, he appears in both lights: a cosmopolitan Englishman; a witty, gay, alert, combative, wise companion. The essays are arranged more in connection with their subject than their date, so that we can watch the variations effected by experience and the passage of time, in the views of the writer on one particular person or matter. Many painters have been considerable writers, but what gives to Sickert's essays their particular character, is that he was a man of the world as well as a painter of genius. In his essays, as a consequence, occur a thousand reflections of a wide panorama of life in a civilised epoch, memories of great painters, of actors and music-hall comedians, of esthetes and charwomen.' Profusely Illus. + Notes and Index. 362pp. 8vo. h/back. Includes several loosely inserted articles cut from 'Ripperologist' magazine relating to Sickert being a Jack the Ripper suspect and the contents of this book. V. lightly browned pp. o/w Vg+ in sunned Vg. protected dw. A fairly heavy book which may require additional postage if shipped overseas.