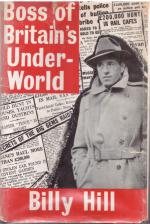 Author: Hill (Billy)
Year: 1955
Publisher: The Naldrett Press
Edition Details: 1st Edn.
Book Condition: NrVg+/Fair
Price: £225.00
IN STOCK NOW
Hardback, 1st edition. From the library of James Morton, with his Notes. "Since my father had five or six cons for belting cozzers and my mother was a buyer of bent gear and my sisters were crooked and my brother-in-law was one of the best burglars in the business, it was not surprising that I did not find the vocation for Holy Orders or aspire to entering a monastery. In the underworld of those days our house was one of the favourite visiting places for all tea-leaves and crooked people." This is how Billy Hill describes his family. He was one of 21 children, and was born in Seven Dials at the end of 1911. He tells his life story from that moment, through his childhood when, dressed in a sailor suit, he used to take snuff in an aspidistra pot to his sister, Maggie, in Holloway, to the time when, with 17-yrs. of imprisonment behind him, he became the boss of the underworld. It is a fascinating and amazing story of how a quiet-spoken, non-drinking man rose to the position where his word was law among the gangsters of London. He tells of how the £287,000 mailbag robbery in 1952 was planned and carried out, what happened to the gold stolen with such audacity in the 1954 bullion raid, what took his boat 'Flamingo' to the Mediterranean and what happened there to her and her crew, which included the ex-cracksman and master spy Eddie Chapman. Billy Hill writes of his own career and of the part played in smash and grab raids, burglaries and every other possible kind of villainy by people like Horrible Harry, Sam Ferryboat Feet and Odd Legs. To his book he has brought all the audacity, humour and atmosphere of the underworld as well as a startling picture of its brutality and toughness towards those who choose to break its code. Illus. + Glossary of Underworld Terms. 231pp. 8vo. h/back. From the library of true crime writer, James Morton, and includes loosely inserted, not just his own notes (featuring details on two big misconceptions about the Spot slashing, plus Jock Wyatt), but also 'as told to by Frankie Fraser' information on who the various nicknames in the book are ascribed to, ie :'Terrible Ted' is Teddie Machin later killed in the street shooting in a domestic matter. He was suspected of a number of killings including that of the bookmaker Harry Barham; 'Little Georgie' is George Wood...... etc., etc. Also loosely inserted is a newspaper cutting of the Justin Hill/Duncan Campbell interview entitled : 'My Parents - the King and Queen of Gangland'. With previous owner's small name/date insc. to ffep, lightly browned edges, v. sl. bowed fr. cover o/w Nr. Vg+ with lovely bright gilt lettering to sp. in a Fair only protected dw. which has a sunned sp., notch to lower cover plus a little print loss (see images). Extremely scarce in dw. and unique with the accompanying notes.
Additional Images
Back Cover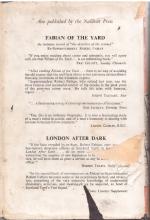 Other