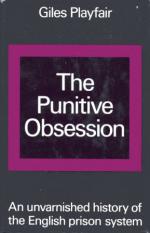 Author: Playfair (Giles)
Year: 1971
Publisher: Gollancz
Edition Details: 1st Edn.
Book Condition: Vg+/Vg+
ISBN: 97805750061
Price: £4.00
IN STOCK NOW
Hardback. According to the theory behind the system, prisons exist for two major purposes: to deter the potential criminal, and to reform the actual offender. In spite of changes, the system remains cruel and demoralising, and thus is unlikely to reform; and yet as the rising crime figures prove (at the time), it is signally failing to deter. The author argues that by their very nature prisons cannot succeed in their dual role: that any increased emphasis on prison as deterrent decreases any hope that it will have a reformative influence, and vice versa. He points out that punishment has never proved an effective deterrent, even when it was far more severe than anything that public opinion would accept now. He reminds us another justification for punishment is sometimes urged: retribution. But this attitude receives less support than it did; and the concepts of retribution and deterrence are often mightily confused. Punishment is deserved, and it also deters, the argument runs: but, as the author demonstrates, maybe neither leg of the argument stands. His book is a history of the English prison system, but it is also much more than that. Through a period of more than 200 years he traces the fluctuations of public opinion on the subject, reactionary and enlightened; and it is surprising how many fluctuations there have been. One tends to think of the early prisons as places of savage inhumanity, which over the years were slowly made more tolerable. The Hulks for example were places of horror, but in some respects they were more humane, and allowed prisoners more freedom, than the "model" prisons of the 19th century, such as Millbank and Pentonville, which were based on the seemingly progressive idea of "seclusion", which in practice often became indistinguishable from solitary confinement. Or we see how the 18th century bridewells, instituted as houses of correction - with a reformative aim, as training centres - became virtually merged with the common jails. And in spite of all the reforming Acts, places such as Pentonville still exist today, crowding together prisoners of many categories: short sentence recidivists, convicted prisoners awaiting sentence and even non-criminal prisoners. Drastic re-thinking was needed and the courage to explore new methods of checking crime. With Footnote, Notes, Bibliog. and Index. 285pp. 8vo. h/back. Lightly browned edges, o/w Vg+ in protected Vg+ pcdw. A tad musty.