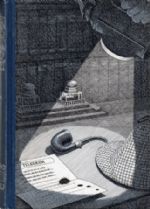 Author: Heald (Tim);Ridgway (Priscilla) Selected by: Keating/Barnard Intro's by: Hardcastle (Nick) Illus. by:
Year: 2002
Publisher: The Folio Society
Edition Details: 1st Edn.
Book Condition: F.
Price: £15.00
IN STOCK NOW
Hardback. Volume I : Beginnings to 1920 and featuring amongst others : Poe, Dickens, Le Fanu, Wilkie Collins, Anna Katharine Green, L.T. Meade, Conan-Doyle, Austin Freeman, Arthur Morrison, Leblanc, Orczy, Hornung, Bramah, Chesterton, Futrelle. Illus. + Sources. 424pp. lge. 8vo. h/back. Volume II : The Twenties and Thirties and featuring amongst others : Wharton, Belloc Lowndes, Edgar Wallace, E.C. Bentley, H.C. Bailey, Freeman Wills Croft, Ronald Knox, Chandler, Erle Stanley Gardner, Christie, James M. Cain, Sayers, Berkley, Hammett, Eberhart, Gladys Mitchell, Cornell Woolrich, Allingham, Graham Greene. Illus. + Sources. 427pp. lge. 8vo. h/back. Two Vols. weigh approx. 2kg so will require additional postage, both domestic and overseas. Two Volumes F.
Additional Images
Other