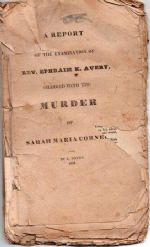 Author: Drury (Luke)
Year: 1833
Publisher: Providence
Edition Details: 1st US Edn.
Book Condition: Poor
Price: £25.00
IN STOCK NOW
Softcover. When Sarah Cornell was found hanging from the frame of a haystack in Tiverton, Rhode Island on December 20, 1832, it might easily have been called suicide but for a note she had left in her bandbox saying, "If I should be missing, enquire of the Rev. Mr. Avery, of Bristol, - he will know where I am." This was the beginning of the Reverend's troubles and one of the most famous 19th-century cases. Aside from the note, the most damning piece of evidence against the Reverend was his presence in the vicinity of the hanging and his not too credible story of his wanderings about the countryside on a cold December day. Despite this, the magistrates dismissed the case against him. Sarah, however, had been five months pregnant, and it was popularly assumed that Avery was the cause of her troubles and thus had a good motive for murdering her. The people became very threatening, and Avery unwisely decided to disappear. There was an immediate hue and cry and he was traced to Rindge, New Hampshire, where he was found and brought back to face a trial for murder. For the times, the trial was a long one; it lasted 27 days, during which 196 witnesses were examined, and resulted in Avery's acquittal. It is not inconsistent to say that while the verdict was undoubtedly sound on the evidence as presented, there is still enough doubt to make the case an interesting one for conjecture. This Report is Rev. Avery's Examination before John Howe and Levi Haile, Justices of the Peace, and commenced on Monday, December 24th until Sunday, January 6th, 1833, where he was acquitted. Disbound. Only goes up to p.58 - lacks pp.59-64 which included an Appendix (p.61-p.64). Sewn, 20cm. Extremely fragile with some loss to tp, all edges frayed and torn. Poor at best (Macdade : 43).
Additional Images
Back Cover