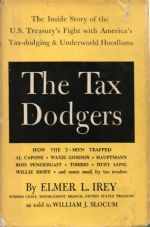 Author: Irey (Elmer) & Slocum (William J.) As Told To:
Year: 1949
Publisher: Fireside Press
Edition Details: 1st UK Edn.
Book Condition: Vg/G+
Price: £90.00
IN STOCK NOW
Hardback. How the T-men trapped Al Capone, Waxie Gordon, Hauptmann, Boss Pendergast, Torrio, Huey Long, Willie Bioff and many small fry tax evaders. The Treasury Department's Intelligence Unit had the greatest crime fighting record in America. Yet crime fighting wasn't supposed to be their job. Their assignment was to track down income tax evaders. They backed into racket busting. It was the T-men who smashed the Capone gangs, the New York gangs, and the untouchable thieves of the Huey Long and Boss Pendergast gangs. They solved the crime of the century, the Lindbergh kidnapping. In two decades they sent to jail hundreds of thieves and murderers who had laughed at every other law enforcement agency in the nation. And while they did it, they recovered over a billion dollars due in taxes to the Government of the American people. Elmer Irey was the mild-mannered soft-spoken head of these T-men whose exploits were a unique combination of incredible daring and interminable book-keeping. One agent, for example, lived for more than a year in the heart of Al Capone's Chicago stronghold as a member of the gang, while other agents patiently went through bank accounts, charge accounts, florists' bills, gambling house records, to build the Government's case against Scarface Al. Starting with the Prohibition era, Irey has fascinating behind-the-scenes stories to tell. There was the honest Prohibition official who called in his enforcement officers, told them to put their hands on the conference table, and then fired every man who wore a diamond ring. This was in the palmy era when a bright young officer might salt away $200,000 a year for knowing when to keep his eyes shut. There were the breweries of Waxie Gordon that worked at full blast 24hours a day, shipped out two truck-loads of near beer through the front door, and sent the rest to far-off distribution points via the city's sewer pipes. (Tom Dewey's first big case). There is the incredible story of Willie Bioff, and how American Hoodlums tried to replace Prohibition's river of gold by moving in on labour. There is the story of the two dapper gentlemen who came at night to Irey's closest friend, said, "Al sent us," and covered his desk with greenbacks that added up to one-and-a-half million dollars. There is the story of Johnny Torrio, the businessman hoodlum, the father of American gangsterdom. Torrio was the original exponent of "leave us cut out the shooting, boys; there's enough here for everybody." The parallel between Torrio's "territorial system" and modern diplomacy and warfare was too deadly to dismiss. Also features Enoch L. (Nucky) Johnson. 256pp. 8vo. h/back. From the library of true crime writer, Wilfred Gregg, with his personal b/plate. Lightly browned pp. o/w Vg. in creased and torn G+ (scarce) dw. A tad musty.