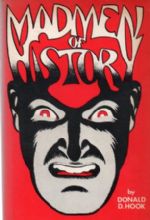 Author: Hook (Donald D.)
Year: 1976
Publisher: Jonathan David (New York)
Edition Details: 1st US Edn.
Book Condition: NrF/Vg
ISBN: 0824602021
Price: £5.00
IN STOCK NOW
Hardback. A fairly broad definition of madness has been employed as a guide for the purposes of this book. In it, you will find many examples of clinical madness, legal insanity and temporary derangement. For the most part, however, they are studies in personalities who became blinded to reality because of over-dedication to an ideal or to a political objective. Some of the madmen have merely changed the flow of events within their own geographical region, while others, by their acts, have drastically altered the course of history. Each character emerges as a life-size personality whose attitudes and actions have been a source of storm and stress for a large segment of the human family. The book is divided into 3 sections : Part One : Despots; Part Two : Assassins; Part Three : Hangmen, Henchmen and Mystics. Featuring amongst others : Ivan the Terrible, Alexander VI, Robespierre, Mussolini, Hitler, Trujillo, Booth, Guiteau, Czolgosz, Oswald, Corday, Princip, Eichmann, Rasputin, Quantrill, Turner, Mishima, Torquemada. 234pp. 8vo. h/back. From the library of true crime writer, Wilfred Gregg, with his personal b/plate. Nr. F. in sunned Vg. dw.