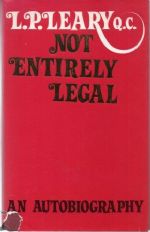 Author: Leary QC (L.P.)
Year: 1977
Publisher: Whitcoulls Publishers (Christchurch)
Edition Details: 1st NZ Edn.
Book Condition: G++/G++
ISBN: 0723305285
Price: £6.00
IN STOCK NOW
Hardback. Celebrated advocate, Leonard Poulter ('L.P.') Leary, C.M.G., M.C., Q.C., would arrive at the Court in striped trousers, spats and homburg, and carrying a briefcase. By afternoon he would be in his tree-tomato orchard with a rotary hoe, and dressed in a pair of old army trousers cut off roughly at the knee. Telling glimpses of a long life that had known much variety and many such contrasts. Born in Palmerston North in 1891, L.P. had been student, bushman, actor, playwright, soldier, farmer and one of the most prominent advocates in New Zealand's legal history. His book is peopled by lawyers, judges, politicians, soldiers from the nightmare of France 1914-18, brilliant wits, musicians, actors, gentle Methodists and blaspheming bushmen, all jostling together. Much of the author's story takes place in a very special world - tense, fascinating capital trials in the shadow of the gallows. Four such trials are recounted here with a large amount of authentic personal detail. In the courtroom his forensic skill and his Irish eloquence marked highpoints in a career based on hard work, versatility, kindness, determination and legendary powers of persuasion. It was the famous trial of Bill Bayly (recounted in detail here) that sent Leary in search of a persuasive method, for he deeply felt he shared the responsibility of a wrongful hanging. His findings on this and other subjects relating to advocacy will be of particular interest to all practising counsel. Illus. 194pp. 8vo. h/back. From the library of true crime writer, Wilfred Gregg, with his personal b/plate. V. lightly browned edges plus a split across the sp. about halfway down o/w G++ in G++ pcdw. which has small notch and closed tear to fr. cover.