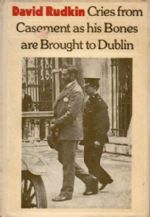 Author: Rudkin (David)
Year: 1974
Publisher: BBC
Edition Details: 1st Edn.
Book Condition: Vg+/Vg
ISBN: 0563126442
Price: £30.00
IN STOCK NOW
Hardback. The author decided to write about Casement when, in 1966, he was commissioned to contribute to a series on Historical Rebels. In the late 1960s he became aware of a 'need to write a large piece that gave utterance to my Northern Irish Protestant identity as opposed to my English one;....Suddenly I realised that my Casement play and my Ulster play were the same thing.' The work that emerged from this hybridisation was determined, both in form and content, by 'the need to draw a parallel between the Irish crisis of Casement's time and that of our own; the relevance of my, the author's personal identification with the Irish journey Casement travels; most of all, the political need to present this Casement as my personal creation, formed from my own intuition and apprehension of him, with the various bits of evidence forensically presented.' The play was first broadcast on BBC Radio 3 on February 4, 1973. The play was produced by John Tydeman and the part of Roger Casement played by Norman Rodway. Other parts were played by Joan Bakewell, Sean Barrett, Kate Binchy, Michael Deacon, William Eedle, Kevin Flood, Martin Friend, Heather Gibson, David Gooderson, Sheila Grant, Michael Harbour, John Hollis, Fraser Kerr, Rolf Lefebvre, Peggy Marshall, Meryl O'Keefe, Irene Prador, David Rudkin, Henry Stamper, Eva Stuart, John Tusa, David Valla, Mary Wimbush and Joy Worth. It was a notable production widely noticed and highly praised. It is a story that will have relevance, as Rudkin himself has written, 'as long as narrow national mythologies and sanctimonious moralities continue to make an explosive issue of mixed national identity and reject a catholic view of man.' The play is already accepted by many as an addition to the list of lasting works produced for radio. It also began life on the stage - an experimental rearrangement of the text was staged by the Royal Shakespeare Company in late 1973. This is a reading version of the author's 'Casement' text as used in the original production. He does not pretend to have prepared a playscript for the theatre - thoughts on possible ways of staging he has confined to an Appendix. 84pp. slim 8vo. h/back. From the library of true crime writer, Wilfred Gregg, with his personal b/plate. Vg+ in Vg. dw.