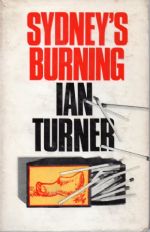 Author: Turner (Ian)
Year: 1967
Publisher: Heinemann
Edition Details: 1st Australian Edn.
Book Condition: Vg+/Vg
Price: £15.00
IN STOCK NOW
Hardback. The ineptitude of the police, strong suspicions of corruption, proven unreliability of witnesses and informers, undisguised bias of the judge and other factors which came to light in later investigations, makes a lurid story of what has been described as 'a frame-up of guilty men'. Linked to the organisation started by miners of Cripple Creek, Colorado, the Industrial Workers of the World or 'Wobblies', as they were known, began an anti-war and anti-conscription campaign in 1916, for which they were hounded remorselessly by the Establishment until, with many members gaoled, the outlawed organisation lost momentum and, as a serious outlet of opinion in the community, died. This book deals with the trial, imprisonment and long battle for re-trial and release of 12 Wobblies. When their leader, Tom Barker, was gaoled for his anti-conscription posters, the Wobblies claimed that for every day he spent in gaol the capitalists would lose £10,000 - and then began a series of fires in shops and factories which were never satisfactorily proved arson, but some of which appeared to have been started intentionally. Tom Barker was released with 9 months of his sentence left to run, but The Twelve tried for arson were convicted and given brutal sentences of up to 15yrs. Illus. including Text Figures, Sources and Index. 254pp. 8vo. h/back. From the library of true crime writer, Wilfred Gregg, with his personal b/plate. V. lightly browned pp. Vg+ in lightly soiled and sunned Vg. dw.