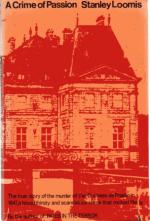 Author: Loomis (Stanley)
Year: 1968
Publisher: H&S.
Edition Details: 1st UK edn.
Book Condition: NrF/Vg.
Price: £30.00
IN STOCK NOW
Hardback. The true story of the murder of the Duchess de Praslin in 1847, a blood thirsty and scandalous crime that rocked Paris. In the grey dawn of August 18, the Duc de Praslin bloodily murdered his Duchesse in her father's Paris 'hotel particulier'. The crime was premeditated, but stupidly executed. A Paris policeman, viewing the murder scene, said : "This was not the work of a professional; this was the act of a gentleman." This crime - one of the events which sparked the revolution of 1848 - has been the subject of novels and articles ever since. But for half a century no-one seemed to have studied thoroughly the actual evidence and letters in the French Archives; the author was the first. We know what happened. The bloody reticule, the battered candlestick, the knife, the rope, the Duc's stained 'robe de chambre' are all visible evidence still in the Archives, if one is permitted to see them. Now we can at least give an educated guess at a conundrum which has fascinated writers, dramatists, lawyers, and laymen for more than a century. (The part played by the governess, Mademoiselle Deluzy, has been, and remains, a mystery). Was the Duchesse corrupting her sons? How? Was Deluzy the Duc's mistress? Was the Duc mad? The questions mount. Most of the previous inquiries have been frivolous or prejudiced. With objectivity, insight, and the assurance which comes with first-hand research, the author has written a definitive study of an historic crime. A highly personal crime, to be sure, but one which had a profound effect upon the history of a country, and indeed, an age. With Maps. Bibliog. and Index. 301pp. 8vo. h/back. Lightly foxed fore-edge o/w Nr. F. in Vg. dw. Scarce.