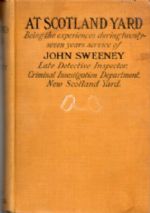 Author: Sweeney (John) Late Det.-Inspector & Richards (Francis) Ed. by:
Year: 1904
Publisher: Grant Richards
First Edition
Edition Details: 1st edn.
Book Condition: Vg+
Price: £225.00
IN STOCK NOW
Hardback. A record of the varied career of John Sweeney, both as an ordinary officer in blue watching the streets, as an enemy to revolutionaries, and as a bodyguard. He was born in County Kerry, Ireland in December 1857, one of 7 children. One of his family, Michael F. Sweeney, was the world record holder for the high jump, 'having cleared the bar at a height of six feet five and five-eighths inches.' Sweeney joined the Metropolitan Police, T Division in 1876 where he spent a quiet 7 yrs. In 1884 he was recommended for promotion to the rank of Sergeant and was subsequently selected to be drafted to Scotland Yard on probation. At this time the head of the Criminal Investigation Department was Mr Monro, with Chief Supt. Williamson as his second in command; under them were 3 Chief Inspectors, then 3 Inspectors graded as first-class, of whom Superintendent Swanson was one; next were 10 other Inspectors, and last of all, 2 sergeants, one of whom was Frank Froest. Sweeney joined the CID, which was headed by Inspector Littlechild. The names of several of the police officers I have deliberately mentioned, will be very familiar to those interested in the unsolved Whitechapel murders committed by Jack the Ripper. John Sweeney went on to have a very successful police career which he chronicles in an easy anecdotal style, with many stories of historical interest. My attention was drawn to one of these by John Sweeney's grandson, Tony, which relates to the time of Queen Victoria's death. One of the duties assigned to John Sweeney, was to be entrusted, in the company of a junior, to convey the Crown, Sceptre and Regalia from Windsor Castle to London. It was King Edward's wish that certain alterations should be made in them prior to his Coronation. So with the priceless items (historic and monetary) placed in just a green baize bag, John Sweeney took his precious charge to the West-End! He goes on to describe in great detail, the items, beyond value and irreplaceable, so trustingly placed in his care. This first edition (which resulted in it being withdrawn and subsequently became v. scarce) provoked a libel suit and the supplementary chapter was entitled Parmeggiani v. Sweeney. Luigi Parmeggiani was a major collector of antiques and pictures who resided at 1 Bedford Square, Bloomsbury, where his visitors included on one occasion, the Empress Frederick of Germany, with John Sweeney acting as bodyguard. According to the author, Parmeggiani had been one of the foremost figures amongst the anarchists and it was this allegation that prompted the action. John Sweeney marshalled his evidence so well, that the Plantiff, was in the final instance, reduced to claiming that the anarchist also named, Luigi Parmeggiani, was his brother. After a 4 day hearing before Mr Justice Ridley and a special jury in the King's Bench Court the Plaintiff was awarded damages of one farthing, reminiscent of the outcome of the Whistler v. Ruskin case, but had to pay all John Sweeney's legal costs. With Frontis./ printed signature and Index. 358pp. 8vo. h/back. With a 'School Prize' certificate tipped-in to fpd, browned edges and eps, small stain to corner of lower cover o/w a Vg+ copy of an extremely rare police memoir.