Author: Connell (Nick)
Year: 0
Publisher: Nick Connell
Edition Details: 1st Edn.
Book Condition: NrF.
Price: £10.00
IN STOCK NOW
Softcover. 7 stapled photocopied pages featuring likenesses in the form of either b/w sketches or b/w photographs, of members of various branches of the Police Forces involved in the hunt for the 1888 Whitechapel serial killer known as Jack the Ripper. Metropolitan - Home Secretary Henry Matthews, Commissioner Sir Charles Warren, Superintendent Thomas Arnold, Inspector Richard Webb, Inspector William Nixon Race, Sgt. William Thicke, Sgt. Stephen White, Sgt. Benjamin Leeson, P.C. Robert Spicer, P.C. John McCarthy, P.C. Frederick Wensley, P.C. Ernest Thompson, P.C. James Stockley, P.C. Lewis Keaton. Special Branch - Commissisoner James Monro, Chief Inspector John Littlechild. Metropolitan C.I.D. - Assistant Commissioner Dr. Robert Anderson, Chief Constable Adolphus Williamson, Chief Constable Melville MacNaughten, Chief Inspector Donald Swanson, Chief Inspector Henry Moore, Inspector Frederick Abberline, Inspector Joseph Helson, Inspector Walter Andrews, Inspector Edmond Reid, Sgt. George Godley, P.C. Walter Dew. City of London - Colonel James Fraser, Major Henry Smith, Superintendent Alfred Foster, P.C. Rober Sager. 7pp. including cover, A4 size. With small paper clip mark to lower edge o/w Nr. F.
Additional Images
Back Cover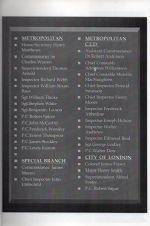 Other