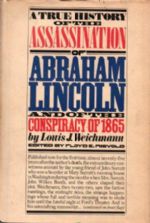 Author: Weichmann (Louis J.) & Risvold (Floyd) Ed. by:
Year: 1975
Publisher: Knopf
Edition Details: 1st US edn.
Book Condition: Vg/Vg
ISBN: 0394493192
Price: £20.00
IN STOCK NOW
Hardback. 'Published now for the first time, almost seventy-five years after the author's death, the extraordinary eyewitness account by the young friend of John Surratt who was a boarder at Mary Suratt's rooming house in Washington during the months when Mrs Surratt, John Wilkes Booth, and the others shaped their plot. Weichmann, then twenty-two, saw the furtive meetings, the midnight rides, the strange happenings whose full and terrible meaning was to elude him until the fateful night at Ford's Theater. And in his astonishing manuscript Weichmann tells his story and defends his role as the chief Government witness against the conspirators in a military trial whose legality was dubious and whose findings created intense controversy. After the trial, many in Washington doubted Weichmann's testimony, and some indeed believed that he may have gained immunity by turning state's evidence against fellow conspirators. "From the day I gave testimony," he writes, "I have been subjected to an infamous persecution." Weichmann felt the public suspicion profoundly; his entire life came to be dominated by the accident of his sojourn in the Surratt house and by what he witnessed there. On the other hand, many distinguished people who were close to the events supported young Weichmann and years later commented enthusiastically on his then-unpublished manuscript. Although not a professional historian, Weichmann as a storyteller is irresistible. In this book, answering his persecutors, he relates the entire story as he would have liked to have told it at the trial - and as, with his Victorian attitudes and his sense of mystery, melodrama, and self-justification, he was finally compelled to tell it.' A fascinating account, whose extraordinary cast includes : John Wilkes Booth, Mary E. Surratt, John H. Surratt and Michael O'Laughlin. Illus., Appendices, Selected Bibliog. Notes and Index. 508pp. lge 8vo. h/back. From the library of true crime writer, Wilfred Gregg, with his personal b/plate. Lightly browned edges, sl. faded along top edge of fr. cover o/w Vg. in sunned sl. frayed Vg. dw. A heavy book which will require additional postage.